Message from CEO
(September, 2021)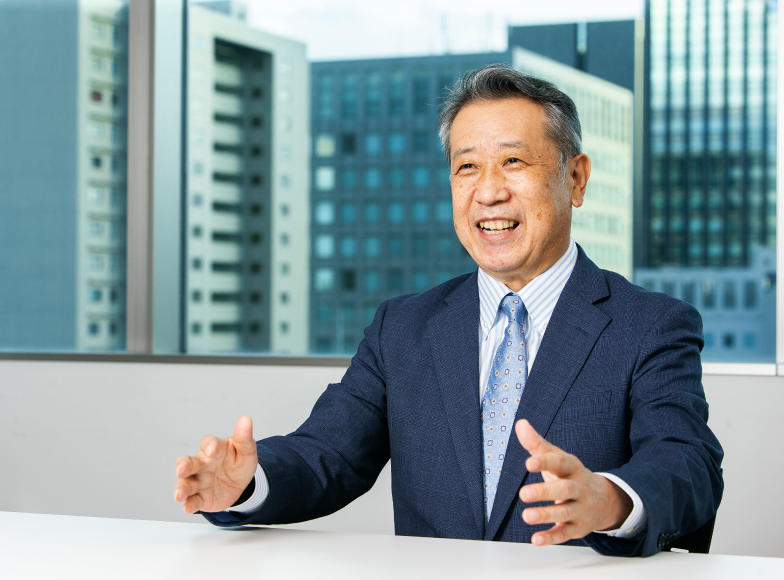 Chief Executive Officer,
Representative Director
Kunimitsu Sato
Looking back on the fiscal year ended June 2021
In the fiscal year ended June 2021, we achieved record net sales and an operating income margin exceeding 10%, which has been our target in recent years, as well as increased sales and profit. It was a year in which we were not significantly affected by COVID-19 and performed well. About profit, we were able to make a solid improvement in the profit margin, thanks to thorough quality control of development projects and the profitability achieved through improved earnings in the security business. In terms of quality control, we have been strengthening our systems by setting up the Quality Assurance Department as an independent department under the direct control of the CEO, and this is having a positive effect. Our cloud services, which we are focusing on, also showed steady development, with results exceeding those of the previous fiscal year.
15ALL, a New Medium-term Business Plan
In August of this year, we announced a three-year medium-term business plan ending in the fiscal year ending June 2024. 15ALL is an aggressive plan that goes beyond the conventional growth trajectory, aiming for net sales of 15 billion yen and an operating income margin of 15%.
In formulating the new medium-term business plan, we redefined our mission and now aim to become "an IT services company that sustains corporate business reliability, including payment, financing, and security," for the next generation information society. Since our founding, we have built a record of accomplishment as a developer of credit card payment systems, and our determination to expand our business to a wider range of fields by applying our technologies is the basis of 15ALL.
Three Business Strategies to Implement 15ALL
In response to the rapidly changing market, we will apply three business strategies: (1) a hybrid IT platform for the payment system market, (2) expansion into areas other than the payment, financing, or security fields, and (3) DNP Group synergies.
(1) In the payment system market, where we have maintained a high market share, in addition to the on-premise* in which we have exceled, we will offer cloud services*, which are in high demand in the market, and expand our sales through both on-premise and cloud services. In terms of cloud services, we are making progress in building a cloud service that is unique to our company, which is based on a multi-cloud model that combines the right people in the right places without specifying a vendor. We have also started BPO services such as nighttime monitoring services for fraud detection, aiming to provide services on a one-stop basis. In the current fiscal year, we are expecting new orders for large-scale projects in cloud services, and we believe that this business will drive our medium-term business plan.
Items (2) and (3) are new initiatives for our company to make a great leap forward in the future. In the DX ,digital transformation, era, where real-time processing of large amounts of data is required in every industry, we will utilize our acceleration (high-speed processing), real-time, and analysis technologies cultivated in the payment market. In addition to the broadcasting business field, which we have already entered, we aim to create an IT infrastructure that supports DX in the social infrastructure domains of electric power and transportation.
In the broadcasting business domain, our original solution, EoM, was adopted by the Finnish public broadcasting company Yle in June of this year, following its introduction to domestic companies, demonstrating that our technological capabilities can be applied globally. This is a technology that will lead to the resolution of issues related to IP in the broadcasting industry, and we intend to take advantage of the current situation, where there is a high demand for these technologies in countries around the world but no significant competitors in the market, to aggressively compete. This term, we are scheduled to participate in exhibitions in the United States and the Netherlands.
To enter new fields, we will actively collaborate with DNP. We are currently working on proposals in the area of operational technology (OT) for DNP customers' factories for realizing smart factories. We are considering new proposals to support smart factories with our specialized technologies, through enhancing their security environments related to network connections. We have already started several other endeavors, and hope to achieve new business sales of 1.5 billion yen in the final year of the medium-term business plan.
Message to Our Shareholders
The Tokyo Stock Exchange is currently undergoing a market reorganization, and we have announced that we have decided to be listed in the Prime Market. We believe that we will be able to keep to be the listed company if we steadily implement our medium-term business plan. At the same time, we will continue to strengthen our shareholder returns in response to your support. We have revised our dividend payout ratio level upwardly from 30% to around 40%, and have increased the dividend for the fiscal year ended June 2021 by 3 yen/share from the initial forecast to 13 yen/share.
Going forward, we will continue to proactively face new challenges not only in the payment system market but also in new areas and moreover, for solving social issues around the world. We would appreciate your continued support.
*1. On-premise: Customers deploy and operate a system by owning servers, network equipment, software, etc.
*2 Cloud services: Customers operate business with systems provided by external parties without owning servers, network equipment, software, etc.